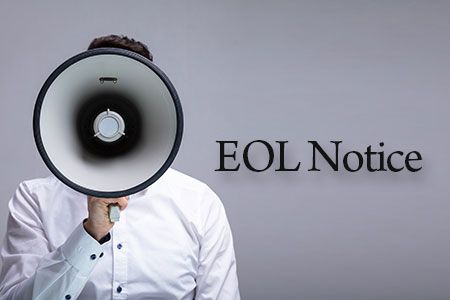 EOL Notices
Products reach the end of their Product Life Cycle for a number of reasons. These reasons may be due to technology innovation, development driving changes and are replaced by functionally improved technology or market demands. While this is an established part of the overall product life cycle, CTC Union has set out below end-of-life policy to help customers better manage and migrate to alternative solutions of these products.
---
EOL Policy
1. As a general rule, CTC Union will provide 6 months' notice of the affected product's end-of-sale date and/or the last day when the affected product can be ordered.
2. Technical support will be available for a period of 5 years from the end-of-sale date for configuration, operating and application issues.
3. Spares or replacement parts for hardware RMA (Return Merchandise Authorization) process will be available for a period of N + 2 years from the end-of-sale date (N: products' initial warranty period); after this period, CTC Union might not be able to repair, maintain, or test the product.
Latest News
| Model Name | Issue Day | Last Buy | Substitute Model |
| --- | --- | --- | --- |
| IMC-1000 | 2023/8/29 | 2023/8/29 | IMC-1001C |
| IMC-1000-PH12 | 2023/8/29 | 2023/8/29 | IMC-1001-PH |
| iSAP2000/iSAP5100 Series | 2023/07/10 | None | None |
| IPM-E1(T1), IPM-4E1(4T1), IPM-8E1, IPM-16E1, IPM-4SE, IPM-1SE/V35 | 2023/07/05 | None | None |
| IGS-S2804TM | 2023/06/19 | 2023/06/30 | IGS-S2804GTM |
| ICS-G24S4X, ICS-G24S2X | 2023/06/16 | 2023/06/30 | ICS-GS24044X |
| MSW-4424C, MSW-4424CS, MSW-4424A | 2023/06/01 | None | MSW-4428X |
| SFP-VDSL-C, SFP-VDSL-R | 2023/06/01 | None | None |
| IGS-402S-4PU(E) | 2023/04/11 | 2023/4/30 | IGS-402SW-4PB |
| PHB-200M, PHB-200 | 2023/03/23 | None | FMC-1800 |