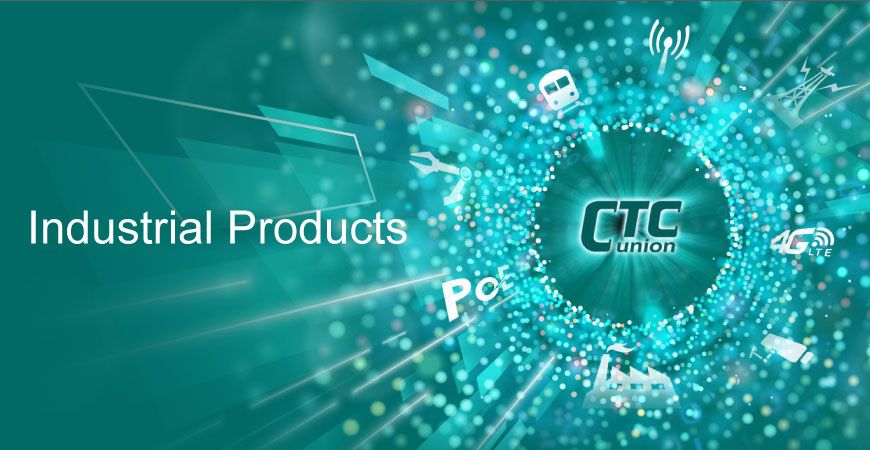 Industrial
Industrial Products
Industrial networking switches designed and manufactured by CTC Union, deliver high performance and reliable solutions in fields such as automation, railway transmission, power substation and so on. The produce have passed strict tests and are certified to UL60950-1 safety standards, railway traffic EN50121-4 & EN50155, EN45545-2 standard fire testing and en61000-6-2 & EN61000-6-4 standards. With wide operating temperatures, IP30 rugged housings, and redundant wide range power inputs features, CTC Union industrial networking devices are able to provide uninterrupted and stable services for mission-critical projects especially carried out in harsh environment. SmartView management, friendly and flexible u-Ring redundance and real-time alarm notification make CTC Union's industrial networking devices even more resilient in connecting your network. To demonstrate confidence in our products, we offer a 5-year warranty on industrial networking products to our customers.
---
2023 Product Catalog
The 2023 Product Catalogs are now available.

Download
Industrial | Switch & Router | Ethernet Network Product Manufacturer | CTC Union
Based in Taiwan since 1993, CTC Union Technologies Co., Ltd. has been a manufacturer of networking products and a provider of industrial networking solutions. Its main networking products include, Industrial, network switches, fiber optic cables, network routers, media converters, bypass switches, fiber optic multiplexers, fiber single mode media converters. Industrial networking solutions for optical transport, factory automation, intersection monitoring, wireless network security, traffic monitoring, tunnel and cell tower safety control, wireless machine networking, data offloading, PoE-powered office automation, campus network access.
CTC Union, founded in 1993, is a Taiwan manufacturer of telecommunication products (ex. L2 Ethernet switch, TDM, Transponder) and industrial Ethernet switch, converter, injector. Strictly control all product design, CTC Union's products pass strict tests and certifications ex. CE, FCC, UL, IEC 62443-4-1, EN50155, EN45545-2, IEC61850-3 standard etc. CTC Union partners with voice and data carriers, enterprises, and industrial grade Ethernet users covers all continents and areas. This global partnership receives direct engineering and technical support from headquarters, located in Taipei, Taiwan.
CTC Union has been providing customers with high quality networking products and networking solutions since 1993, with both advanced technology and 28 years of experience, CTC Union ensures that each customer's requirements are met.
View our quality networking products and networking solutions
Core Switch
,
Ethernet Switch
,
PoE Switch
,
Router
,
Media Converter
,
Bypass Switch
,
Device Server
,
PoE Injector
,
Transponder
,
Switch Card
,
EDFA Booster
,
Converter Card
,
Fiber Multiplexer
,
Transceiver
and feel free to
Contact Us
.